At least 200,000 North Korean citizens, including many of our Christian brothers and sisters, suffer under brutal conditions in six confirmed labor camps for political prisoners.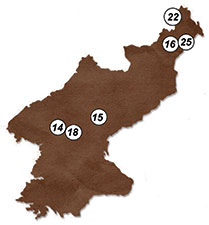 Among the camps are …
Camp 14, which is known as a "complete control district," meaning its 50,000 prisoners will work there until death.

Camp 22, which is about the size of Los Angeles in area and is thought to be used for human experiments. It also holds about 50,000 prisoners.
Camp 25, a camp controlled by the North Korean secret police and believed to hold felons, religious leaders and spies and their families.
 Very few North Koreans have survived detention in a labor camp. Although the average sentence is 15 years, the average life expectancy in a labor camp is only seven years. Up to three generations of entire families have been detained in government efforts to "root out class enemies."
With your help, The Voice of the Martyrs continues to penetrate the "Hermit Kingdom" with the message of Jesus Christ. Workers along the border and inside the country face the continual threat of arrest and the subsequent consequences. Yet additional workers are now in training to help with this dangerous work.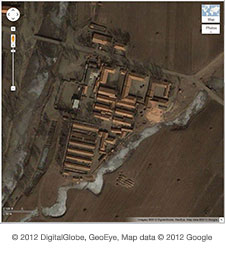 Please pray for North Koreans, our team of workers and the underground church.
Courtesy of Voice of the Martyrs
STORY HIGHLIGHTS
Authorities say they recovered 69 children from prostitution
Seattle has 16 kids recovered from prostitution, the most of 40 cities
The crackdown is part of the ongoing Innocence Lost National Initiative
(CNN) — A three-day federal crackdown on child prostitution rings across the country has resulted in the recovery of 69 children and the arrest of 884 people, including 99 pimps, federal authorities said Monday.
Meanwhile, in Tennessee, authorities announced Monday they were arresting 29 individuals involved in gangs that trafficked underage Somali and African-America girls in a prostitution ring. The 29 people were connected to the Somali Outlaws, the Somali Mafia and the Lady Outlaws, officials said.
The three-day federal sweep, called Operation Cross Country V, involved 40 cities nationwide and is part of the Innocence Lost National Initiative, authorities said.
"Child prostitution continues to be a significant problem in our country, as evidenced by the number of children rescued through the continued efforts of our crimes against children task forces," said Shawn Henry, executive assistant director of the FBI's Criminal, Cyber, Response and Service Branch, in a written statement. "There is no work more important than protecting America's children and freeing them from the cycle of victimization. Through our strategic partnerships with state and local law enforcement agencies, we are able to make a difference."
The city where the most children were recovered was Seattle, Washington, with 16, said FBI Special Agent Jason Pack. Seven pimps were arrested there, he added.
Following Seattle were Tacoma, Washington, and Sacramento, California, each with seven child prostitutes retrieved by authorities, Pack said. Two pimps were arrested in Tacoma and three in Sacramento, he said.
The city with the largest number of pimps arrested was Detroit, with 10, Pack said.
To combat growing child prostitution, federal agencies formed the Innocence Lost National Initiative in June 2003 to address enterprises involved in the domestic sex trafficking of children. Those agencies were the FBI's Criminal Investigative Division, the Department of Justice's Child Exploitation-Obscenity Section and the National Center for Missing and Exploited Children.
There are now 39 Innocence Lost task forces and working groups throughout the country.
So far, those units have recovered 1,250 children, and the initiative has resulted in 438 indictments, 625 convictions, 153 criminal enterprises disrupted and 58 successfully dismantled, authorities said. Convictions have resulted in sentences ranging up to 25-years-to-life and in the seizure of more than $3 million in assets, authorities said.
The most recent sweep, over a 72-hour period ending Sunday night, was the fifth such law enforcement operation, said Pack.
"Once again, Operation Cross Country has awakened the nation to the fact that today American children are being marketed and sold for sex in American cities," said Ernie Allen, president of the National Center for Missing and Exploited Children, in a written statement. "These kids are victims. This is 21st century slavery. We are proud to be a part of this extraordinary partnership to rescue children, save lives and bring the pimps and operators to justice."
The FBI says that at least 25 percent of adult prostitutes were enticed into the illegal activity as juveniles.
In Tennessee, federal authorities said the gangs transported the minor girls from Minneapolis, Minnesota, which has a large Somali immigrant community, to Nashville, Tennessee, for prostitution over a 10-year period. Some of the girls were 13 years old or younger.
"I would call this one of the more significant cases that we investigated," said John Morton, director of the Immigration and Customs Enforcement agency.
The Hope Movement is a Partner with the Rescue & Restore Task Force. Unite with Us to Combate Modern-day Slavery!

By Mohammed Jamjoom, CNN
May 5, 2010 10:07 a.m. EDTMay 5, 2010 10:07 a.m. EDT

STORY HIGHLIGHTS
Rights groups condemn treatment of women forced into sex slavery

One teen escaped back to Iraq only to be jailed for using with a fake passport

Another is serving time for killing the father she says raped her and tried to sell her

Human Rights Watch: We don't know of one case of prosecuting a trafficker
Baghdad, Iraq (CNN)
Some face punishment for prostitution. Others are charged with ties to terrorism. And then there are the victims, also behind bars.
Fifteen-year-old Zeina's sad journey to prison began two years ago when she says was sold into sex slavery. "My father came and took me to go visit my grandfather in Syria," says Zeina, "and I went with him."
The family trip turned out to be a cover story, and Zeina found herself faced with the most horrific possible reality. She says she was then forcefully taken from Syria to the United Arab Emirates and sold into sexual slavery.
But Zeina refused to surrender to such a horrendous fate. And when the opportunity presented itself, she ran away. "I'm proud of myself," explains Zeina. "I turned myself into the police and decided not to stay in that situation."
Authorities in Dubai helped her return to Iraq, but more cruelty awaited her in Baghdad. The only way Zeina could make it home was to travel on a forged passport — a very serious crime in Iraq.
After escaping her ordeal, Zeina found herself being prosecuted, rather than being comforted. As punishment, she's now serving two years in jail. A prison official confirmed her story.
Iraqi women's rights activists are outraged. "She refused to accept that her body had been sold. So this is how they reward her?" said Dalal Rubaie with the Organization for Women's Freedom in Iraq, "To put her in jail for two years? Where's the justice?"
Trafficking is a growing problem in Iraq. Some vulnerable women, desperate to support their families, are tricked into it by accepting fake marriage proposals. Many young girls, their parents facing dire economic circumstances, are just sold outright.
"In some ways, their fate is worse than death," explained Samer Muscati from Human Rights Watch. "Once they've been trafficked, there's a stigma even though they're the victims in this horrific situation. They've been exploited and they've been trafficked to another country with no real recourse."
According to Muscati, even if the girls do manage to escape the cruelty of their circumstances, it will be very difficult for them to escape the judgment of their families.
"When they do come back to Iraq, if the family does accept them it's very difficult because they've brought great shame to the family, they're subjected to honor crimes. And we've come across cases where young women have preferred to stay in prison or custody than to be released and to face tribal justice," Muscati said.
Rubaie puts it even more bluntly when discussing what little future awaits trafficked girls who manage to return home.
"I'm sure the girl's family won't take care of her," said Rubaie. "I'm sure that neighbors and relatives and society will judge her, they'll know that the girl had been a prisoner and the family will be ashamed of her.
"I'm sure they won't let her travel. I'm sure she won't be able to complete her education, if she had been studying. Or they will force her to marry a cousin so they can exert control over her. Any cousin. They'll end her life."
A sense of injustice pervaded every story told by the prisoners. Some inmates had actually discovered they were to be trafficked and tried to stop it.
When Fatin found out her father was attempting to sell her, she immediately sought help from the law.
"I ran away from Najaf and escaped to Baghdad where I found my mother and asked her if she knew what my father was planning," says 22-year-old inmate Fatin, "So she took me to court in Baghdad, we got a lawyer and brought a case against my father."
Months passed and the lawsuit was never heard. While awaiting justice, Fatin says her father raped her. After the attack, she killed him, was tried, and is currently serving the fifth year of a 15 year sentence.
Muscati, who's studied trafficking extensively in Iraq, can't understand why Iraqi officials aren't doing more to stop it.
"Why is the Iraqi government not prosecuting the traffickers?" Muscati asked. "There hasn't been a case of prosecution against a trafficker that we're aware of. Why is the Iraqi government not passing a law to make it more difficult for trafficking?"
At 22, Fatin, like several of her fellow inmates, is too old to remain in a juvenile facility. She'll soon have to serve out the rest of her term in a prison for adults, a much harsher environment.
Qassim Abdul Ameer, warden of the juvenile prison, is worried for Fatin and other inmates in the same situation. "Of course she will find it difficult there," Abdul Ameer says about Fatin, "because the environment will be difficult there. In the adult prisons, they usually take advantage of the younger girls."
Fatin does fear the transfer, but it's her eventual release still a decade away that she's even more afraid of.
"Yes, there is freedom outside," says Fatin, "but people don't forgive. They don't have mercy."
This report includes graphic content.
By Arwa Damon – CNN
November 19, 2009 8:16 a.m. EST
Jakarta, Indonesia (CNN) — "People see me as a strong woman," Sunarsih says, "but I was broken inside. I was always crying but I don't want other people to see my cry."
Sunarsih is not this woman's real name. She doesn't want her identity revealed. No one, not even her family, knows what happened to her.
Her story starts 15 years ago, when she was just 17 years old.
"My family was very poor, I had to drop out of school," she explains. "Then I met many successful migrant workers and their stories enticed me."
Sunarsih's situation is not uncommon. Across impoverished villages in Indonesia, becoming a migrant worker is a woman's only chance for a better life.
But for some, the pursuit of their dreams quickly becomes a nightmare.
Sunarsih went to what she thought was a legitimate company. She received training in the basics of housekeeping, a passport for the first time.
"The company announced that an Arab employer was looking for a virgin, brown-skinned, tall housemaid," she remembers. "I was chosen among hundreds. I was so happy, it was like a dream come true. I was so proud. My friends told me how lucky I was to be chosen that quickly."
But two weeks after the Arab man took her to his home in Saudi Arabia, she said the horrors began.
"He was not my real employer. My real employer was his disabled father. The lower part of his body was paralyzed," she shuddered. "He would ask me to give him a massage using a vibrator on his penis."
At first she said no.
"He got very mad at me, he said that he wouldn't pay me," she recalled. "I didn't have the power to refuse. I didn't know where to escape."
She says his nine sons also molested her by groping her body and made her massage them and cook while they were naked.
Finally, one day she found the gate to the house unlocked, pretended to take out the garbage, and ran away. Eventually she ended up in a shelter run by Indonesians. She thought she had been saved; little did she know that the real nightmare was about to begin.
"They tricked me. I ran from a crocodile's mouth and ended up in a lion's mouth," she said.
She says she was sold to a pimp for about $1,300, made to work as a sex slave. At first she tried to fight back.
"The clients would just call him (the pimp) whenever they wanted a girl," she remembered. "They asked me to do anything, from the ordinary to the loathsome."
For more than a year she was brutally raped and sodomized.
"I felt like I was dying. It would have been better for me to commit suicide," she said in an even voice, despite a few tears betraying her pain. "I was humiliated. They treated me like an animal. But the pimp said that the clients paid a very high price for me."
She managed to escape when Saudi police raided the operation. She was jailed for six months and then deported.
Shame and the social stigma kept her from telling her family.
UNICEF estimates that around 100,000 women and children are trafficked as sex slaves both inside and outside of Indonesia.
Normawati is a one-woman NGO trying to help out migrant workers.
"Many of them go abroad with the proper documents, legally. But then they run into problems and land themselves into an illegal status," she explains. "Then they meet people on the streets who say they can help, they promise to take the migrant to an embassy, while in fact they sell them."
Protecting these women is the respective governments' responsibility, she said.
Reputable companies are equipping their migrant workers with the basics in self defense, aware of the potential problems they could face.
Fadlum Umar, the director of PT Amri, a hiring agency which processes some 2,000 migrant workers a month, said her company takes this problem very seriously. Her company has local offices that the women can turn to if they end up in a precarious situation.
"As soon as I get information on a sexual abuse case we fly the migrant worker home immediately," she tells us. "We have a zero tolerance policy when it comes to sexual abuse on the part of the employer."
Sunarsih never reported her case to the police. The company that employed her has since disappeared for reasons unknown.
She remains defiant in the face of what she endured, but can't escape.
"I am nearly 40 now," she said, "and I still don't know what true happiness is."
---
Unite in the Hope Movement and help us bring hope to victims of abuse and slavery. You can make a difference by raising awareness, raising funds, volunteering your time, etc.
To find out how you can help visit our Get Involved page and give a financial gift today.