Buenos Aires – Maria Velasquez was in need of work. She had no prospects in her hometown of La Paz, Bolivia, so when she was offered a bus ticket to Argentina and assured of steady work and a home there, she jumped at the chance.
It was a trip that would take her to the depths of the garment industry's slave labor trade only to emerge as a member of a cooperative credited with raising awareness about slave labor on two continents.
"I was promised a sewing job in Argentina that would pay a dignified salary of $200 a month. But just like so many other victims, I was lied to," says Velasquez, 31.
She quickly became a victim trapped inside a vast network of workers who are lured from Bolivia to Argentina on empty promises.
Most endure long and brutal journeys before being sent to work in clandestine clothing factories under oppressive conditions.
In Velasquez's case, she and her husband, with their one-year-old son, crossed the border into Argentina in 2006 using counterfeit documents provided to them by the smugglers.
There was not a fake passport available for an infant boy, so Velasquez had to cut her son's hair and put him in a pink dress so he looked like the baby girl pictured on the passport. It worked.
Once in Buenos Aires, Velasquez soon realized the whole scenario was a scam. She was dispatched to a hot, crowded factory and forced to sew 18 hours a day, seven days a week.
She says she was rarely allowed outside, and had to sleep in a hallway alongside 20 other workers. For all her work, she made $25 dollars a month.
"My son would sit under the sewing table and cry, and my boss would yell at us all the time," she says.
With little money and no contacts in Argentina, she felt she had no choice but to stay and work at the sweatshop. After a year, though, the mistreatment became too much, and she fled with her husband and son.
Eventually, she arrived at La Alameda, a community center that serves Argentina's burgeoning Bolivian community. Velasquez soon learned that they also make clothes there, and found that her sewing skills were in demand.
La Alameda clothing collective is situated on the noisy second floor of a century-old corner building in the working-class Parque Avellaneda neighborhood of Buenos Aires.
Inside, Velasquez and a dozen other men and women – nearly all of whom are former victims of slave labor – produce sweat-free clothing in a non-threatening environment.
Instead of constant verbal abuse and sleepless nights, they now spend their days stitching dresses, blouses, and uniforms for small local companies.
Each member works an eight-hour shift, and earns around $4 dollars an hour. The cooperative's rules are simple: there is no boss, all issues are voted upon, and profits are split.
"I now have the freedom to be a part of my children's lives. I have a say in the decisions we make here. We all earn the same amount. It is an excellent change of lifestyle for me," says Velasquez.
In 2009, La Alameda decided to take their goods global. They partnered with a similar workers' collective in Thailand, Dignity Returns, and began jointly producing colorful T-shirts under the label name "No Chains."
The T-shirts feature designs by artists from all corners of the globe, and are sold online and in shops in Buenos Aires and Bangkok for $15 dollars each.
The "No Chains" initiative has been credited with helping bring attention to slave labor in Argentina and Thailand, both countries where the trade is particularly prevalent, while also promoting ethical consumption practices.
In Argentina, slave labor boomed during the past decade, a consequence of the country's devastating economic crisis in 2001, when it defaulted on some $100 billion dollars in debt. The currency devaluation that followed made it prohibitively expensive to import products and, consequently, Argentina's textile industry exploded.
"The clothing business grew very quickly here but without serious fiscal, political or labor controls," says Gustavo Vera, the director of La Alameda and a leading advocate for labor rights in Argentina.
"Now, in Buenos Aires city there are 3,000 clandestine clothing factories with some 25,000 workers. Nearly 80 percent of the clothing produced in Argentina is made in clandestine factories," he says.
Buenos Aires city officials say in 2010 they identified 1,200 locations where forced labor was suspected of taking place. They acknowledge it is a challenge to shut down the sweatshops and admit they do not know exactly how many clandestine factories exist.
That is one reason why Daisy Cahuapaza, 34, values her job at La Alameda so much. Like her workmate Velasquez, she came to Argentina from Bolivia, and worked long hours for little pay in a clandestine factory.
Now, as a member of the collective, she is thrilled that she can make a living wage and support her four children. She is quick to point out, however, that many others are still falling prey to the same trap.
On a recent trip to Bolivia, she says she saw a dozen buses at a La Paz bus station filled with nervous young women destined for foreign borders – and uncertain futures.
"More people are being brought from Bolivia every day. Not just here to Argentina, they go to Brazil too," she says. "The reality is that people need the work. And for that work, they have to suffer."
Help the Hope Movement Combat Modern-day Slavery!
"In Miami we found a human trafficking trade like we didn't find in any other places," says an alarmed Aaron Cohen, a modern day abolitionist who has documented the slave trade around globe many times over.  From glamorous hotels to seedy motels,Aaron Cohen says Miami has emerged as a profitable target for human traffickers.
Emerging from his undercover work, he met with Chief I-Team Investigator Michele Gillen and walked her through a collection of his videos that show how some of these young women find themselves literally locked away with no freedom to leave or say "no" to being prostituted for sex.
On one, you hear a counselor who is called an interventionist, speaking with a young woman who, Cohen explains was a run away, lured to Miami with the promise of working as a model.
"You make them money. You are a money machine for them," the interventionist explains to the girl with the hope of giving her hope and an exit.
The young woman responds "I ended up getting locked in a house"
Assisting in what 's called a "break away", Cohen is a human rights advocate known as 'The Slave Hunter' – and he bought a so-called date with the girl to help her break away from her captors.
"They locked her in closets, they beat her if she disobeyed, they would starve her if she disobeyed," says Cohen
She is one of thousands of women, men and children who have been rescued by Cohen, who often works undercover and along side law enforcement in some of the most dangerous, darkest places in the world. His aim now…our backyard.
"You have to look at on the East Coast, the cocaine cartels. The cartels are bringing girls in in droves into Miami," says Cohen.
"When you think of trafficking in the US you
have to make the connection with organized crime. And organized crime has drugs as their number one business, sex trafficking as their number two business and arms as their number three. What people are failing to realize is our own US citizens are being trafficked. Runaways who are picked up within hours of running away from their families are moved from state to state, forced into prostitution and other horrible acts," says Carmin Pino, Assistant Special Agent in Charge, US Immigration and Customs Enforcement, based in Miami.
Pino says he is outraged and haunted by this illegal trade and how South Florida has become a magnet for it and young American runaways are ever more vulnerable.
"We have very high end trafficking. (In) our escort services because Miami is very high end and a lot of money is involved. And now what's becoming a very bad trend. US citizens are being abducted and taken abroad and they are being forced into a variety of heinous crimes,"says Pino.
Breaking girls into the trade often involves multiple rapes and torture.
"I was not prepared to see the amount of depravity that I was going to witness," Cohen shares with Gillen.
Nor is local law enforcement. Police painfully told Gillen about an 18 year-old girl who they say was lured from a BBQ to go to a party. Instead she was brought to one Miami hotel and then another, where it's alleged she was beaten and kept against her will for 31 days forced to essentially work those days and nights as a sex slave.
A Miami man and woman were arrested in the case and are set to stand trial in December for alleged crimes that include sex trafficking and kidnapping.
Meanwhile, it is the hoped for rescues that keeps Cohen going into the trades worst danger zones, including post earthquake Haiti.
But it is the reunions of freed slaves with their long lost loved ones, as he documented in Sudan, that propels him to find the next survivor and strengthens his voice to wake up the world. His message, "If we don't do something about these problems we are feeding this monster that is going to eat us alive."
ICE encourages the public to report suspicious criminal activity through its toll-free hotline at 1-866-DHS-2ICE. This hotline is staffed around the clock by investigators.
Unite in the Hope Movement to Combate Modern-day Slavery!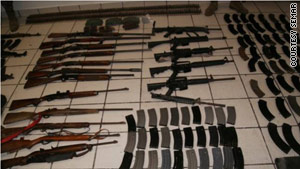 STORY HIGHLIGHTS
The road to the United States goes through Mexico for Central Americans
The journey is "one of the most dangerous in the world," rights group says
Thousands of migrants are abused each years by smugglers and drug cartels
Human smuggling may be a $20 billion business in Mexico
(CNN) — Mario Santos likely never made it to the United States.
The 18-year-old set out 10 years ago from his native El Salvador in search of opportunity and a better way of life. But he had to travel north through Mexico first.
A short while after leaving, he called his parents to tell them he had been beaten and robbed in Mexico, left penniless and without shoes or clothes. It was the last they heard from him.
While it's not certain that Santos is dead, he probably suffered the same fate as 72 migrants from Central and South America whose bodies were found this week in a ranch in northern Mexico, just 90 miles from the U.S. border. Officials are investigating whether they were the victims of human traffickers or drug cartels that prey on migrants.
It's a fate that officials say befalls thousands of Central and South Americans every year.
"It's brutal," says Peter Hakim, president emeritus of the Inter-American Dialogue, a non-partisan Washington policy institute. "This is very big business. It's very brutal."
 is indeed big business. Human trafficking is one of the most lucrative forms of crime worldwide after drug and arms trafficking, the United Nations Office on Drugs and Crime said in April.
In Mexico, it is a $15 billion- to $20 billion-a-year endeavor, second only to drug trafficking, said Samuel Logan, founding director of Southern Pulse, an online information network focused on Latin America.
"And that may be a conservative estimate," Logan said.
That money, which used to go mostly to smugglers, now also flows into the hands of drug cartel members.
The Center for Strategic and International Studies, a bipartisan, nonprofit policy institute based in Washington, noted in an August report that human smuggling and other illegal activities are playing an increasingly important role as narcotraffickers diversify their activities.
"The drug cartels have not confined themselves to selling narcotics," the report said. "They engage in kidnapping for ransom, extortion, human smuggling and other crimes to augment their incomes."
Some cartels have come to rely more in recent years on human smuggling.
"For the Zetas, it's been one of their main revenue streams for years," Logan said about the vicious cartel, which operates mostly in northeastern Mexico.
Cartel involvement has increased the risk for migrants crossing through Mexico to get to the United States, said Mexico's National Commission for Human Rights. An investigation by the commission showed that 9,758 migrants were abducted from September 2008 to February 2009, or about 1,600 per month.
No one knows exactly how many people try to make the passage every year.
The human rights organization Amnesty International estimates it as tens of thousands. More than 90 percent of them are Central Americans, mostly from El Salvador, Guatemala, Honduras and Nicaragua, Amnesty International said in a report this year. And the vast majority of these migrants, the rights group said, are headed for the United States.
"Their journey is one of the most dangerous in the world," Amnesty International said.
"Every year, thousands of migrants are kidnapped, threatened or assaulted by members of criminal gangs," the rights group said. "Extortion and sexual violence are widespread and many migrants go missing or are killed. Few of these abuses are reported and in most cases those responsible are never held to account."
An indication of how many people attempt the trip can be found in statistics compiled by Mexico's National Migration Service, which tracks how many migrants are detained and returned to their countries of origin each year. Experts note that these are only the migrants who get caught, and that many — even most — are not apprehended.
Nonetheless, the Mexican agency said it detained 64,061 migrants last year, 60,383 of whom were from El Salvador, Guatemala, Honduras and Nicaragua. About 20 percent of them were females and about 8 percent were under the age of 18. Some were under 10.
Officials in El Salvador, where the teen-aged Santos started his trip, estimate that about 10,000 Central American migrants suffered some kind of abuse in 2009.
"The vast majority has been committed by these organized crime gangs, such as the Zetas for example, in the route along the Gulf (of Mexico), which is where they operate most frequently," said Juan Jose Garcia, the Salvadoran vice minister for citizens living abroad.
"But we also have found events in which (Mexican) authorities have participated," Garcia said.
The Salvadoran Foreign Ministry estimates up to 150 citizens leave each day for Mexico. Some analysts put that figure at closer to 300.
For most Central Americans, that journey begins with a human smuggler, commonly called a "pollero." In the United States, the smugglers are better known as "coyotes."
For a set fee, usually ranging from $850 to $5,000 a head, a smuggler will deliver a migrant to the border of the United States or even offer passage across.
Problems often arise when smugglers and migrants approach the border and organized crime organizations get involved.
"This is where things get complicated," said Logan, who is writing a book on the Zetas and is the author of "This is for the Mara Salvatrucha: Inside the MS-13 America's Most Violent Gang."
The drug-trafficking organizations charge the "polleros" a price per person for the right to cross over their territory, a practice called "derecho de piso," or right of passage.
Or they will abduct the migrants and hold them for ransom from their relatives and friends in the United States or family back home.
Often times, the United Nations Office on Drugs and Crime said, migrants who are abducted are subjected to sexual or labor exploitation.
If the migrants are being held for ransom and the money is not paid in time, the situation can get ugly.
"Sometimes the Mexican organized crime group says, 'The hell with it. We're not going to deal with these people,' and they kill them all," Logan said.
That's what may have happened, Logan said, to the 72 people whose bodies were found Tuesday in a ranch building in Tamaulipas state, about 14 miles (22 kilometers) from the town of San Fernando, near the border with Texas.
Or the migrants may have refused to work for the cartel, which is one possibility that has been mentioned in news accounts.
A bloody turf war between the Zetas and the Gulf cartels also may have complicated matters because the smugglers may not have known who to pay or may have paid one group and angered the other.
"In Tamaulipas, it's very hard for a pollero to know who is who," Logan said. "The Zetas and Gulf cartels were once allied and now have split."
At any rate, the involvement of the drug cartels has changed the dynamics of human smuggling in Mexico, said Andrew Selee, director of the Woodrow Wilson Center's Mexico Institute.
Selee remembers living in northern Mexico a few years back and knowing that a father-son duo who lived on his block were "polleros."
"That's gone," Selee said, noting that the costs of having to pay cartels for the right to cross their territory has driven out small-time smugglers.
"They now have to be big enough to handle those costs," Selee said.
Selee and the Inter-American Dialogue's Hakim point out that increased border security and interdiction by the United States also has led to cartel involvement because of the level of sophistication and complexity now often involved in getting someone across the border. The cartels already have the routes and other facilities in place they use for smuggling drugs.
"We're no longer talking about a simple process that involves one or two individuals," Selee said. "This has become much more dangerous."
As always, profit is the motive.
"The smuggling became profitable the more the United States began to build barriers to immigration," Hakim said.
On Thursday, Amnesty International called on the Mexican government to take swift action about the slayings of the 72 people in Tamaulipas.
"Amnesty International issued a report in April highlighting the failure of Mexican federal and state authorities to implement effective measures to prevent and punish thousands of kidnappings, killings and rape of irregular migrants at the hands of criminal gangs, who often operate with the complicity or acquiescence of public officials," the rights group said in a release.
"This case once again demonstrates the extreme dangers faced by migrants and the apparent inability of both federal and state authorities to reduce the attacks that migrants face. The response of the authorities to this case will be a test."
It's too late for the families of the victims.
For the parents of Mario Santos, the Salvadoran who disappeared 10 years ago, much of the anguish lies in not knowing what happened.
"If only he would call me on the telephone and I would know he is alive, even if I never saw him again, that would satisfy me," said his father, Daniel Santos.
For thousands of Central American families, the phone does not ring.

By Mohammed Jamjoom, CNN
May 5, 2010 10:07 a.m. EDTMay 5, 2010 10:07 a.m. EDT

STORY HIGHLIGHTS
Rights groups condemn treatment of women forced into sex slavery

One teen escaped back to Iraq only to be jailed for using with a fake passport

Another is serving time for killing the father she says raped her and tried to sell her

Human Rights Watch: We don't know of one case of prosecuting a trafficker
Baghdad, Iraq (CNN)
Some face punishment for prostitution. Others are charged with ties to terrorism. And then there are the victims, also behind bars.
Fifteen-year-old Zeina's sad journey to prison began two years ago when she says was sold into sex slavery. "My father came and took me to go visit my grandfather in Syria," says Zeina, "and I went with him."
The family trip turned out to be a cover story, and Zeina found herself faced with the most horrific possible reality. She says she was then forcefully taken from Syria to the United Arab Emirates and sold into sexual slavery.
But Zeina refused to surrender to such a horrendous fate. And when the opportunity presented itself, she ran away. "I'm proud of myself," explains Zeina. "I turned myself into the police and decided not to stay in that situation."
Authorities in Dubai helped her return to Iraq, but more cruelty awaited her in Baghdad. The only way Zeina could make it home was to travel on a forged passport — a very serious crime in Iraq.
After escaping her ordeal, Zeina found herself being prosecuted, rather than being comforted. As punishment, she's now serving two years in jail. A prison official confirmed her story.
Iraqi women's rights activists are outraged. "She refused to accept that her body had been sold. So this is how they reward her?" said Dalal Rubaie with the Organization for Women's Freedom in Iraq, "To put her in jail for two years? Where's the justice?"
Trafficking is a growing problem in Iraq. Some vulnerable women, desperate to support their families, are tricked into it by accepting fake marriage proposals. Many young girls, their parents facing dire economic circumstances, are just sold outright.
"In some ways, their fate is worse than death," explained Samer Muscati from Human Rights Watch. "Once they've been trafficked, there's a stigma even though they're the victims in this horrific situation. They've been exploited and they've been trafficked to another country with no real recourse."
According to Muscati, even if the girls do manage to escape the cruelty of their circumstances, it will be very difficult for them to escape the judgment of their families.
"When they do come back to Iraq, if the family does accept them it's very difficult because they've brought great shame to the family, they're subjected to honor crimes. And we've come across cases where young women have preferred to stay in prison or custody than to be released and to face tribal justice," Muscati said.
Rubaie puts it even more bluntly when discussing what little future awaits trafficked girls who manage to return home.
"I'm sure the girl's family won't take care of her," said Rubaie. "I'm sure that neighbors and relatives and society will judge her, they'll know that the girl had been a prisoner and the family will be ashamed of her.
"I'm sure they won't let her travel. I'm sure she won't be able to complete her education, if she had been studying. Or they will force her to marry a cousin so they can exert control over her. Any cousin. They'll end her life."
A sense of injustice pervaded every story told by the prisoners. Some inmates had actually discovered they were to be trafficked and tried to stop it.
When Fatin found out her father was attempting to sell her, she immediately sought help from the law.
"I ran away from Najaf and escaped to Baghdad where I found my mother and asked her if she knew what my father was planning," says 22-year-old inmate Fatin, "So she took me to court in Baghdad, we got a lawyer and brought a case against my father."
Months passed and the lawsuit was never heard. While awaiting justice, Fatin says her father raped her. After the attack, she killed him, was tried, and is currently serving the fifth year of a 15 year sentence.
Muscati, who's studied trafficking extensively in Iraq, can't understand why Iraqi officials aren't doing more to stop it.
"Why is the Iraqi government not prosecuting the traffickers?" Muscati asked. "There hasn't been a case of prosecution against a trafficker that we're aware of. Why is the Iraqi government not passing a law to make it more difficult for trafficking?"
At 22, Fatin, like several of her fellow inmates, is too old to remain in a juvenile facility. She'll soon have to serve out the rest of her term in a prison for adults, a much harsher environment.
Qassim Abdul Ameer, warden of the juvenile prison, is worried for Fatin and other inmates in the same situation. "Of course she will find it difficult there," Abdul Ameer says about Fatin, "because the environment will be difficult there. In the adult prisons, they usually take advantage of the younger girls."
Fatin does fear the transfer, but it's her eventual release still a decade away that she's even more afraid of.
"Yes, there is freedom outside," says Fatin, "but people don't forgive. They don't have mercy."