Editor's note: The military campaign that killed more than 1,700 Mayans during Guatemala's civil war is widely considered by experts as the only act of genocide in the Western Hemisphere during the modern era. According to the United Nations, Efrain Rios Montt is the first former head of state to face genocide charges by a national tribunal.
Guatemala City (CNN) — The soldiers killed Jacinto Lopez's teenage daughter Magdalena by repeatedly stabbing her in the neck.
Then they shot and killed his sons, 13-year-old Domingo and 10-year-old Pedro.
His in-laws were not spared. Barely anyone in the village was.
These atrocities, which took place in the remote Guatemalan town of Santa Maria Nebaj in July of 1982, have never been described in a courtroom.
Until now.
For the first time, Lopez has shared his terrifying story in the nation's highest court.
And for the first time "anywhere in the world," according to the United Nations, a former head of state is being tried for genocide by his own nation's justice system. That man is Efrain Rios Montt, an ex-military dictator who ruled Guatemala from 1982 to 1983.
"They killed my family and destroyed our crops," Lopez testified. "They took even my cows."
The attack against the Lopez family was just one of countless assaults in the early 1980s during the war between the Guatemalan government and leftist rebels.
The military used the rebel threat as a guise to exterminate rural Ixil Mayan villages accused of harboring insurgents, prosecutors say. According to prosecutors, the campaign led to the genocide of more than 1,700 Ixil Mayans.
Previous accusations of genocide, such as in Rwanda or against Serbia, have been presided over by international judges. The Guatemala attacks are considered by many experts as the only incident of genocide in the Western Hemisphere during the modern era.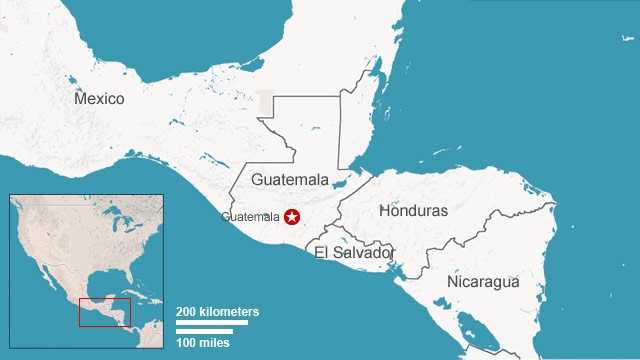 Map: Guatemala
The trial reignites debate over the United States' controversial pro-government policies in the region during the 1980s. It also offers a fascinating look in real time at how a nation is choosing to face its own demons. Painful public testimony could help heal the national betrayal reflected in the faces of many Mayan victims.
Lopez, now 82 years old, is among dozens of witnesses who have testified at the trial being heard by the nation's three-judge Supreme Court.
Guatemala begins first genocide trial
Rios Montt, 86, is accused of authorizing a military strategy so brutal that it was labeled "scorched earth." His attorneys say the former dictator did not order any of the atrocities.
The genocide charges rest on the assertion that the army, under Rios Montt's orders, specifically targeted the Ixil because of their ethnicity, and not just because they were suspected of harboring rebels. The charge has been made before, but not in court. A 1999 report by a Guatemalan truth commission concluded that "agents of the state committed acts of genocide against groups of Mayan people."
During the opening remarks of the trial, an attorney for Rios Montt laid the foundation for the argument that no such ethnic targeting took place.
"I never heard a speech that said 'kill the Ixil, exterminate the Ixil,'" defense lawyer Francisco Garcia Gudiel said. Rios Montt "never gave an order, written or spoken, to exterminate a single Ixil in this country."
The United States stands accused in the court of public opinion. Critics say Washington turned a blind eye to the abuses, and worse. The Reagan administration claimed violence was decreasing during Rios Montt's tenure, and in 1983, lifted a U.S. arms embargo. But there are bookends for this dark chapter of Central American history. More recently, the United States has pushed for Guatemalan judicial reform that has made this trial possible.
Horrific memories
For generations, the Ixil have lived in mountainous villages in the country's northwest, mostly isolated from the rest of Guatemala and the world. According to the country's 2002 census, Guatemalan Ixil number around 95,000, less than 1% of the nation's population.
They still speak primarily the Ixil language, and most of the witnesses called to the stand so far have spoken through a translator. The horrific stories that more than 70 prosecution witnesses have revealed so far have been hard to hear in any language.
They started raping me … I don't know how many took turns … I lost consciousness.
Woman trial witness whose identity was protected by the court
"I was 12 years old," said one woman, whose identity was protected by the court. "They took me with the other women and they tied my feet and hands. They put a rag in my mouth … and they started raping me … I don't know how many took turns. … I lost consciousness … and the blood kept running. … Later I couldn't even stand or urinate."
Stories about rape were so widespread that the trial set aside an entire day of testimony just for rape victims.
Their shocking stories prompted many of the hundreds of Guatemalans sitting in the courtroom to use their hands to cover their mouths. The powerful proceedings often wrapped the courtroom in profound silence, only to be broken by the sound of sobbing.
Pedro Chavez Brito was 6 or 7 years old when the military attacked his village in November 1982. Soldiers killed his mother, he told the court. In a frantic bid to escape, he hid with his pregnant sister and her two children among the family's chickens.
It didn't work.
When soldiers found them, they lashed Chavez's sister to the stairs of their home, he testified. The soldiers then set the house on fire, killing her and her two children, Chavez testified. Seven other family members may have died in the fire, he said.
Chavez, like many other survivors, lived to share his story because he fled into the unforgiving mountains.
That's how Maria Cruz Raymundo and her family escaped, too. But conditions there were so harsh that her husband, daughter and son starved to death, she told the court.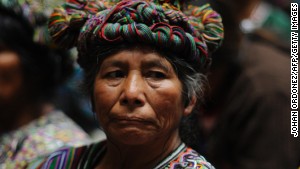 Painful public testimony could help heal the national betrayal reflected in the faces of many Guatemalan Mayans.
More than 100 witnesses have taken the stand so far — a marathon of gruesome stories.
Another witness, Nicholas Bernal, testified that he, too, escaped to the mountains.
Bernal told the court he had watched soldiers kill his neighbors and then rip out their hearts and burn their bodies.
Each passing day of the trial reveals similar nightmarish stories. Human rights organizations such as the Center for Legal Action in Human Rights and Association for Justice and Reconciliation are broadcasting the trial live on the Internet. In addition, the U.S.-based Open Society Justice Initiative is providing daily summaries on a dedicated website. Testimony in this report is culled from all these sources and state news media.
Shifting U.S. behavior
When Rios Montt assumed power in a coup in 1982, Guatemala was already in the throes of a violent civil war that would last 36 years. The insurgency, and extrajudicial killings by the military, had been going on for two decades as part of the broader conflicts between leftist rebels and hardline governments across the region.
By the time a peace accord was reached in 1996, an estimated more than 200,000 had perished.
Photos: Searching for the 'disappeared' in Guatemala
Rios Montt faces charges of genocide and crimes against humanity connected to his 16 months as dictator. He is being tried together with his then-chief of military intelligence, Mauricio Rodriguez Sanchez.
Sanchez is accused of designing and executing the army's strategy.
When Rios Montt became president, human rights violations had already prompted the United States to cut off aid to the Guatemalan government. But a political scandal in the U.S. in the 1990s revealed that in fact the CIA continued to provide money to Guatemalan military intelligence sources for years during the civil war.
Now-declassified secret CIA cables indicate that the United States had knowledge of the atrocities being committed against the Ixil Mayans, but did little about them, according to Victoria Sanford, director of the Center for Human Rights & Peace Studies at the City University of New York.
"At best they chose to look away, but often they were covering it up," Sanford said.
In one CIA document, from February 1983, the agency reports to Washington that an increase in violence against civilians is because of "right-wing violence."
But the U.S. ambassador at the time added a note to the same memo with a distinct explanation: "I am firmly convinced that the violence described … is government of Guatemala ordered and directed violence."
Another CIA memo shows the U.S. government may have had knowledge of the violent tactics being used against the Ixil Mayans.
"When an army patrol meets resistance and takes fire from a town or village it is assumed that the entire town is hostile and it is subsequently destroyed," the 1982 document states. "The well-documented belief by the army that the entire Ixil Indian population is (pro-rebel) has created a situation in which the army can be expected to give no quarter to combatants and non-combatants alike."
Critics blame the United States, in its anti-communist zeal, of standing by during these atrocities by denying them and lifting the arms embargo. Then-U.S. President Ronald Reagan went as far as to say that Rios Montt was being given a "bum rap" by critics. At the same time, the United States was backing other strongmen in Latin America against leftists.
But if the United States deserves criticism for openly supporting Rios Montt's rule, it also should be credited for supporting Guatemalan efforts to put the former dictator on trial, said Anita Isaacs, a professor of political science at Haverford College whose research focuses on Guatemalan politics.
She is a fierce critic of the U.S. role in the 1980s, but adds that "this trial wouldn't be occurring were it not for the role played by the United States pushing for reform in Guatemala's judicial system."
In her view, the U.S. ambassador to Guatemala from 2008 to 2011, Stephen McFarland, was "single-handedly" responsible for shifting the country's perception of the United States from meddling to supportive.
McFarland listened to survivors' stories of the civil war and attended hearings in support of the victims, she said.
The trial
The historic nature of the trial isn't lost on the nation's public, although some say too much time has passed for the process to be fair.
Even current President Otto Perez Molina, a former general who once commanded troops in the Ixil lands, has said he believes there was no genocide. Instead, some see the attacks as a kind of national defense campaign.
The Guatemalan military viewed the Ixil Mayans as rebel collaborators who threatened the government.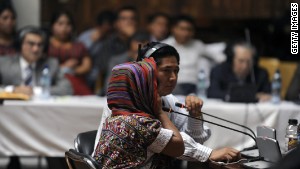 The proceedings often wrapped the courtroom in profound silence, only to be broken by the sound of sobbing.
This view is shared by protesters with military ties who have stood outside the courthouse, holding signs demanding respect for the military and a fair trial. One demonstrator, Victor Manuel Argueta, told the state-run AGN news agency that the soldiers are "proud of what we did during the civil war."
The army in the early 1980s, he said, "was dedicated to defending the people from those who wanted to usurp power." The trial, he said, is nothing more than a "political lynching."
Declassified U.S. documents repeated the Guatemalan military's assertion that the Ixil were protecting the rebels.
But dozens of studies by anthropologists have indicated that it was much more complex than that, said Kate Doyle, director of the Guatemala Documentation Project at the National Security Archive, a leading research institute.
Some Ixil Mayans joined the guerrillas as combatants and others provided food or protection, but still others were not connected to the rebels. Some even actively opposed the rebels, she said.
Since the trial began, Rios Montt has fired his attorneys and then rehired them.
Defense attorneys have argued there's no evidence proving that Rios Montt ordered any of the abuses.
His lawyers have repeatedly and unsuccessfully demanded that the chief judge recuse herself. They say the judge violated Rios Montt's rights by pressing on with the trial when his attorneys were not prepared.
A victory, no matter the outcome?
The victims' stories are haunting, and the desire for justice strong, but the task of proving genocide isn't easy.
Prosecutors must prove the attacks targeted a specific ethnic group with the intention of destroying it, said Naomi Roht-Arriaza, a law professor at the University of California Hastings College of Law.
To convict Rios Montt, prosecutors must also convince the judges that he was responsible.
What's at stake is less clear. The genocide charges are without precedent. If Rios Montt and Rodriguez Sanchez are convicted, their maximum possible sentences are unknown.
In 2011, a Guatemalan court sentenced four soldiers to 6,060 years in prison each for their role in the 1982 massacre at Dos Erres, a village where 201 people were killed. Thirty years for each death. A fifth soldier was sentenced to the same last year. The unheard-of sentences were for crimes against humanity, not genocide.
They must make public what they may have kept inside.
Naomi Roht-Arriaza, University of California Hastings College of Law.
Given Rios Montt's age, many assume that he will serve little, if any, time in prison if convicted.
For the moment, legal observers say the trial itself stands as a huge triumph.
A national conversation
So many of the Ixil Mayans have described their ordeals using the same phrase: They said the army treated them "like animals."
These heart-wrenching revelations, said Roht-Arriaza, allow victims a very important opportunity.
Finally, they can acknowledge in a public courtroom the horrors they experienced so many years ago.
Several witnesses said they do not seek revenge, but simply want to be "liberated" by having their stories etched in the official record.
They must "make public what they may have kept inside," Roht-Arriaza said. "It opens up the nation to conversation. It lets people see that the justice system works."
Looking into the eyes of some of the victims in the courtroom, it's hard to know if they reflect pain or faith or peace — or the relief of a weight lifted.
As the witnesses detail their horrifying stories, Rios Montt sits just a few feet away, expressionless. Listening.
As Isaacs put it, this "in itself is a form of justice."
CNN's Mariano Castillo reported and wrote this story from Atlanta. Journalist Miguel Salay contributed from Guatemala City.
There are moments when we feel alone in this calling to form a movement of hope. There are moments when we feel that no one else cares. There are moments when we feel that people are not hearing the call. There are moments when we are about to lose all that we have worked for because people are not helping. But…. there are moments that remind us that God is in control and that this is not our vision, this is not our ministry it is His and we are all united in this ministry of Jesus…..A Hope Movement.
The Hope Movement is a grassroots ministry, it started humibily by a poor young person, without connections to funds, but only a connection to the Most High. We have been struggling to get people inspired to help us by becoming financial givers to help us complete the will of God. We felt that the doors of our Haven of Hope Outreach Center in Escuintla, Guatemala was going to close because of the lack of financial support, but in our dark moments, God sends people who decide to listen to His voice and give.
These are our Angels, our friends, our family and we love them deeply.
Thank you from the bottom of our hearts.
Emergency Help!

Help Our Children In Latin America

We Urgently Need Your Help To Keep The Doors Of Our Center for Children Open!

Her name is Rosita, she is 4 years old, and she lives in a one room house constructed on an abandoned lot next to our Haven of Hope Outreach Center. Her house is made of pieces of metal, has no electricity, no running water and no bathroom. Her Mother is a single Mother of four children, her Father tried selling the children for sex to feed his addiction and now has abandoned the family and they are struggling to survive on their own. Many evenings our staff would find Rosita roaming the streets and her Mother was not even aware she was outside of the house. When The Hope Movement opened our doors to help Rosita and her sister they came to us severally malnourished physically and emotionally.

Unfortunately this story is common in the area where The Hope Movement works and we offer the only outreach program in this third largest city of Guatemala. The Hope Movement is a 501 (c)(3) nonprofit foundation based in Miami, Florida and through our Haven of Hope Outreach Center in Escuintla, Guatemala we are providing daily meals, education, counseling, medical treatment to hundreds of children and families who are struggling for survival and uniting and training local communities to bring lasting change.

Since entering our Haven of Hope Outreach Center little Rosita is now healthy and developing into a wonderful little girl in a safe and loving environment. The need is so great and as a grassroots movement our work would not exist without loving and compassion individuals such as you.

We desperately need your help! Our Haven of Hope Outreach Center may be forced to temporarily close our doors this month if compassionate people such as yourself do not help us raise the needed $2,000 this month. It only cost $2.00 to feed and educate a child in our Haven of Hope Outreach Center and 95% of every dollar goes directly to the program as our executive staff work as volunteers so that your gifts can make a greater impact.

I know this has been a difficult economic time for many, and there are many wonderful organizations to give to, but we ask that you please take a moment to pray and think about this opportunity to help children who without your help will go to sleep tonight with an empty stomach, face abuse, will be forced to work on the streets rather than study and will loss hope for a brighter future, but with your help their lives will be forever transformed.

So I ask you, will you help? Will you take a moment and give what you can to children who are a reaching out to us for love and hope? Will you unite with us to form a movement of hope? I pray that your answer is YES!

If you would like to share an inspirational message to one of our children or families in our program please fill out the online form at www.hopemovement.com and send it along with your donation. Thank you for being a vessel to transform lives, you are such a blessing and we love you.

Please Consider Giving A Financial Gift To Help Keep The Doors Of Our Center Open!

Your Friend,

             

Founder/ Executive Director/ Missionary 

Tax ID: 31-6681494

Located in the Colonia of Madrid and San Felipe, our Haven of Hope Center is the

only

outreach center in the third largest city in Guatemala which has the 4th highest rate of malnourishment in the world and over 200,000 abandoned children, providing daily nutritious meals to the most vulnerable of children in the community, children who most days live on less than a piece of bread a day, and spend their time in the streets begging and searching for food for their families. A nutritious meal is essential for survival and development. In attending our Haven of Hope Center the Hope Movement does not just provide physical nourishment, but through education and counseling we provide spiritual and emotional nourishment to guide children, heal their inner wounds, and inspire them to pursue their life's purpose, understanding that poverty is not their destiny, it is only an obstacle to overcome to make their dreams into a reality.

Services Provided:       

Daily Nutritious Meals

Non-formal Education

Medical Care by Volunteer Doctors and Nurses

Community Outreach   

Health and Hygiene Education

Drug and Alcohol Use/ Abuse Prevention

Self-esteem Counseling

After-School/ Movie Night/ Youth Activities   

Family Counseling

Leadership Development

Spiritual Guidance

Specialized Training

---

Ways To Give

Online:

By Mail:

The Hope Movement
17000 North Bay Road, Suite 609
Sunny Isles Beach, Florida 33160

How Your Funds Will Help:

Rescue Children from the Streets

Provide Daily Meals To Malnourished Children.

Educate and Counsel Children and Families.

Unite Churches and Ministries.

Form a Generation of Transformation.

Combat Modern-day Slavery

Inspire Nationwide Transformation.

 

 

 

 

For more information, please contact me at (305) 528-5214 or hope@hopemovement.com.
Angeles Rossemary Bonilla Tay is only 2 1/2 years old, born 31 weeks prematurely due to an accidental fall by her mother, Esna Patricia Tay de Bonilla. The clinical Diagnosis given by doctors at birth is a long list of hydrocephalus by intraventricular hemorrhage, prematurity of 31 weeks, bronchopneumonia and valvular dysfunction.
Their current clinical diagnosis is hydrocephalus, placement ventriculoperitonial low pressure valve, convulsive syndrome and obesity. Instituted treatment: multiple neurosurgery and pediatrics, valve placement and outplacement, prescribed medications and therapies in the IGSS ESCUINTLA.
 The father of Angeles abandoned the family shortly after birth, because of the health condition of the baby, her mother, 21, lives in the house of her grandmother with Angeles and because of the constant care required to care for Angeles, she can not find a job. The Hope Haven Outreach Center opened our doors to Angeles and her mother providing nutritious meals and therapy treatments.
On Thursday, February 28, 2013 at 3:00 p.m. Angeles passed away from physical complications. She is now in the arms of God free of pain, her disabilities are now abilities, her health is restored, and she is dancing on streets of gold. In a short time on this earth Angeles impacted lives and we grew to love her with all of our hearts. She will be forever missed and will never be forgotten. It is interesting that the word Angeles means Angels, for now she residents with them.
The Hope Movement in honor of Angeles and many children with similar conditions will be launching a new unique program to help those with special needs. We must be the voice of the voiceless and hope to the hopeless.
Please keep the family of Angeles and her extended family in our Haven of Hope Outreach Center in prayer during this difficult time.
We Love You Angeles!