The continual violence caused by the drug cartels in Ciudad Juárez, México, have left thousands of children orphaned. At least 12,000 children have been faced the loss of a parent because of violence.
Majority of the 7,000 people murdered were between the ages of 17 – 35.
Help the Hope Movement Break the Cycle of Violence!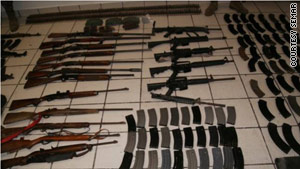 STORY HIGHLIGHTS
The road to the United States goes through Mexico for Central Americans
The journey is "one of the most dangerous in the world," rights group says
Thousands of migrants are abused each years by smugglers and drug cartels
Human smuggling may be a $20 billion business in Mexico
(CNN) — Mario Santos likely never made it to the United States.
The 18-year-old set out 10 years ago from his native El Salvador in search of opportunity and a better way of life. But he had to travel north through Mexico first.
A short while after leaving, he called his parents to tell them he had been beaten and robbed in Mexico, left penniless and without shoes or clothes. It was the last they heard from him.
While it's not certain that Santos is dead, he probably suffered the same fate as 72 migrants from Central and South America whose bodies were found this week in a ranch in northern Mexico, just 90 miles from the U.S. border. Officials are investigating whether they were the victims of human traffickers or drug cartels that prey on migrants.
It's a fate that officials say befalls thousands of Central and South Americans every year.
"It's brutal," says Peter Hakim, president emeritus of the Inter-American Dialogue, a non-partisan Washington policy institute. "This is very big business. It's very brutal."
 is indeed big business. Human trafficking is one of the most lucrative forms of crime worldwide after drug and arms trafficking, the United Nations Office on Drugs and Crime said in April.
In Mexico, it is a $15 billion- to $20 billion-a-year endeavor, second only to drug trafficking, said Samuel Logan, founding director of Southern Pulse, an online information network focused on Latin America.
"And that may be a conservative estimate," Logan said.
That money, which used to go mostly to smugglers, now also flows into the hands of drug cartel members.
The Center for Strategic and International Studies, a bipartisan, nonprofit policy institute based in Washington, noted in an August report that human smuggling and other illegal activities are playing an increasingly important role as narcotraffickers diversify their activities.
"The drug cartels have not confined themselves to selling narcotics," the report said. "They engage in kidnapping for ransom, extortion, human smuggling and other crimes to augment their incomes."
Some cartels have come to rely more in recent years on human smuggling.
"For the Zetas, it's been one of their main revenue streams for years," Logan said about the vicious cartel, which operates mostly in northeastern Mexico.
Cartel involvement has increased the risk for migrants crossing through Mexico to get to the United States, said Mexico's National Commission for Human Rights. An investigation by the commission showed that 9,758 migrants were abducted from September 2008 to February 2009, or about 1,600 per month.
No one knows exactly how many people try to make the passage every year.
The human rights organization Amnesty International estimates it as tens of thousands. More than 90 percent of them are Central Americans, mostly from El Salvador, Guatemala, Honduras and Nicaragua, Amnesty International said in a report this year. And the vast majority of these migrants, the rights group said, are headed for the United States.
"Their journey is one of the most dangerous in the world," Amnesty International said.
"Every year, thousands of migrants are kidnapped, threatened or assaulted by members of criminal gangs," the rights group said. "Extortion and sexual violence are widespread and many migrants go missing or are killed. Few of these abuses are reported and in most cases those responsible are never held to account."
An indication of how many people attempt the trip can be found in statistics compiled by Mexico's National Migration Service, which tracks how many migrants are detained and returned to their countries of origin each year. Experts note that these are only the migrants who get caught, and that many — even most — are not apprehended.
Nonetheless, the Mexican agency said it detained 64,061 migrants last year, 60,383 of whom were from El Salvador, Guatemala, Honduras and Nicaragua. About 20 percent of them were females and about 8 percent were under the age of 18. Some were under 10.
Officials in El Salvador, where the teen-aged Santos started his trip, estimate that about 10,000 Central American migrants suffered some kind of abuse in 2009.
"The vast majority has been committed by these organized crime gangs, such as the Zetas for example, in the route along the Gulf (of Mexico), which is where they operate most frequently," said Juan Jose Garcia, the Salvadoran vice minister for citizens living abroad.
"But we also have found events in which (Mexican) authorities have participated," Garcia said.
The Salvadoran Foreign Ministry estimates up to 150 citizens leave each day for Mexico. Some analysts put that figure at closer to 300.
For most Central Americans, that journey begins with a human smuggler, commonly called a "pollero." In the United States, the smugglers are better known as "coyotes."
For a set fee, usually ranging from $850 to $5,000 a head, a smuggler will deliver a migrant to the border of the United States or even offer passage across.
Problems often arise when smugglers and migrants approach the border and organized crime organizations get involved.
"This is where things get complicated," said Logan, who is writing a book on the Zetas and is the author of "This is for the Mara Salvatrucha: Inside the MS-13 America's Most Violent Gang."
The drug-trafficking organizations charge the "polleros" a price per person for the right to cross over their territory, a practice called "derecho de piso," or right of passage.
Or they will abduct the migrants and hold them for ransom from their relatives and friends in the United States or family back home.
Often times, the United Nations Office on Drugs and Crime said, migrants who are abducted are subjected to sexual or labor exploitation.
If the migrants are being held for ransom and the money is not paid in time, the situation can get ugly.
"Sometimes the Mexican organized crime group says, 'The hell with it. We're not going to deal with these people,' and they kill them all," Logan said.
That's what may have happened, Logan said, to the 72 people whose bodies were found Tuesday in a ranch building in Tamaulipas state, about 14 miles (22 kilometers) from the town of San Fernando, near the border with Texas.
Or the migrants may have refused to work for the cartel, which is one possibility that has been mentioned in news accounts.
A bloody turf war between the Zetas and the Gulf cartels also may have complicated matters because the smugglers may not have known who to pay or may have paid one group and angered the other.
"In Tamaulipas, it's very hard for a pollero to know who is who," Logan said. "The Zetas and Gulf cartels were once allied and now have split."
At any rate, the involvement of the drug cartels has changed the dynamics of human smuggling in Mexico, said Andrew Selee, director of the Woodrow Wilson Center's Mexico Institute.
Selee remembers living in northern Mexico a few years back and knowing that a father-son duo who lived on his block were "polleros."
"That's gone," Selee said, noting that the costs of having to pay cartels for the right to cross their territory has driven out small-time smugglers.
"They now have to be big enough to handle those costs," Selee said.
Selee and the Inter-American Dialogue's Hakim point out that increased border security and interdiction by the United States also has led to cartel involvement because of the level of sophistication and complexity now often involved in getting someone across the border. The cartels already have the routes and other facilities in place they use for smuggling drugs.
"We're no longer talking about a simple process that involves one or two individuals," Selee said. "This has become much more dangerous."
As always, profit is the motive.
"The smuggling became profitable the more the United States began to build barriers to immigration," Hakim said.
On Thursday, Amnesty International called on the Mexican government to take swift action about the slayings of the 72 people in Tamaulipas.
"Amnesty International issued a report in April highlighting the failure of Mexican federal and state authorities to implement effective measures to prevent and punish thousands of kidnappings, killings and rape of irregular migrants at the hands of criminal gangs, who often operate with the complicity or acquiescence of public officials," the rights group said in a release.
"This case once again demonstrates the extreme dangers faced by migrants and the apparent inability of both federal and state authorities to reduce the attacks that migrants face. The response of the authorities to this case will be a test."
It's too late for the families of the victims.
For the parents of Mario Santos, the Salvadoran who disappeared 10 years ago, much of the anguish lies in not knowing what happened.
"If only he would call me on the telephone and I would know he is alive, even if I never saw him again, that would satisfy me," said his father, Daniel Santos.
For thousands of Central American families, the phone does not ring.

This is a wonderful opportunity for you to sponsor Hope Movement Missionaries to Mexico. You can support the important work of our missionaries by sponsoring the Gamboa Family for only $25 monthly, or any amount that you can give.
Click To Sponsor The Gamboa Family And Mexico Initiaitive
Name: Randall Gamboa and Fiorella Oviedo.
Children: Michelle (10 years old) Melanie (8 years old) and Isabella (6 months)
Born and raised in Costa Rica, Randall and Fiorella made a commitment to serve God with all of their hearts in 1996. A year later they met and fell in love, and in May of 1998 they married. Over the years Randall and Fiorella have served in the church in San Sebastian, Costa Rica as Sunday School Teachers, and have been Youth Pastors for over 9 years. They have three beautiful young girls, and while being full-time Youth Pastors Randall worked in a local bank to support his family. Randall and Fiorella felt in their hearts that God was calling them to be missionaries in Mexico, a nation plagued with extreme violence, and is great need of hope. Pastor William Obando and Randall traveled to Mexico and doors began to open for Randall and his family to move to Guadalajara, Mexico in April 2010 as full-time missionaries, starting a church, home based community groups, with opportunities to expand Hope Movement initiatives throughout Mexico such as Hope Movement Alliance, School-based programs, missions of hope, and outreach programs.
Location: Guadalajara, México
Economical Needs: $1,000 monthly
Currently Received: $700 monthly (Funded by Church in Costa Rica)
By Arthur Brice, CNN
December 4, 2009 6:35 p.m. EST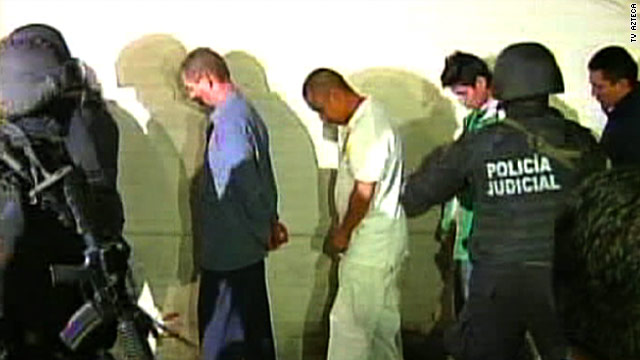 Police arrested 23 people in Thursday's raid on what they said was a house for slave laborers.
(CNN) — Mexican authorities have freed 107 indigenous people who officials say were being held as slave laborers in a Mexico City factory disguised as a drug rehabilitation center.
Twenty-three suspects were arrested in Thursday's raid, said Miguel Angel Mancera, Mexico City's attorney general. Two more were arrested Friday morning, officials said.
The victims ranged from 14 to 70 years old, and some were tortured, Mancera told CNN affiliate TV Azteca. Some victims also suffered sexual abuse, he said.
"They were beaten," he said. "Several have wounds, serious wounds. We even have some of the victims with fractures."
All of the victims were suffering from severe dehydration and malnutrition, he said. Some were taken to a hospital.
The captives, some of whom speak only indigenous languages and no Spanish, were locked in the building, which had bars on the windows and a fence outside, he said.
They made handbags and clothespins and were not paid. Their only daily meal consisted of chicken legs and rotten vegetables, Mancera said.
"The vast majority of the food we found was spoiled," he said.
Video of the inside of the building showed filthy and crowded living conditions.
The men and women worked 8 a.m. to midnight and were given only a half-hour food break. They were not allowed to go to the bathroom, and many soiled themselves, officials said.
The attorney general labeled it "cruel and inhuman treatment." The victims, he said, were abused mentally and physically, "with all sorts of pressure."
Most of the victims were nabbed off the street by some of the suspects under the guise of giving them treatment for alcoholism or drug addiction, the attorney general said.
"They take them by force, and they take them with the argument that they need to be rehabilitated, that they are addicts," Mancera said.
A few of the victims were brought there by family members who thought their loved ones would receive addiction treatment.
The facility has a sign in front identifying it as Hospital Santo Tomas, Los Eligidos de Dios, which means "St. Thomas Hospital, Those Chosen by God."
Up to 300 people may have been incarcerated at the facility in recent months, Mancera said. Officials believe that thousands more could have suffered the same fate in the eight years the hospital has been open.
Some of the victims were released at the end of six months, when they were too ill or infirm to continue working, and new recruits were brought in.
Authorities now are looking at other treatment facilities.
"I am sure this will lead to other investigations and perhaps action by other authorities," Mancera said.
The investigation into Hospital Santo Tomas started in September, when a man was abducted while unloading a truck at a commercial establishment. Officials got a break in the case when one of the men held at the hospital escaped and told authorities what was happening at the facility.
Among those arrested Thursday were the facility administrator, Jose Antonio Villa Ramos, and the man accused of leading the abductions, Javier Rosales Garcia, known as "El Tato," Mancera said.
Political analyst and TV commentator Ana Maria Salazar described the case as "quite shocking," even by Mexican standards.
A recent study, she said, found that human trafficking gangs kidnap about 10,000 people a year in Mexico. Many of those victims, Salazar said, are from remote parts of the country or are migrants trying to cross Mexico to get to the United States.
The study's tally may be high, she said, but even 5,000 victims a year would be "a very high number of kidnappings."
"There's much more going on that we don't see," Salazar said. "This gives you a sense that there's a lot of stuff going on in Mexico."
Andrew Selee, director of the Woodrow Wilson Center's Mexico Institute, said the abductions are another sign of the nation's serious problems.
"Mexican society is becoming increasing aware of the multiple faces of organized crime and its impact on citizens' everyday lives," he said. "We're all focused on the drug cartels and drugs, and there's a lot of this stuff that goes on."
Forced labor is a global issue, with an estimated 12.3 million people forced into such situations, said Joanna Ewart-James of the organization Anti-Slavery International. Forced labor can be found in both the agricultural and manufacturing sectors.
Many of the people forced into slave labor are poor and dispossessed, Ewart-James said. Indigenous people, such as the victims in Mexico, are a common target.
"We know indigenous people are particularly discriminated against," she said. "It's much easier to exploit them."
Latin America accounts for the second largest number of forced laborers in the world, after Asia, the United Nations International Labour Organization said in its 2009 report on the issue.
"Those most at risk are migrant workers in sweatshops, agriculture and domestic service," the agency said. "The main form of forced labor is through debt bondage, involving informal and unlicensed intermediaries who pay advances to entice workers and then reap profits through inflated charges.
"Forced labor in Latin America is closely linked to patterns of inequality and discrimination, especially against indigenous peoples."
About 80 percent of forced laborers work for private companies. The remaining 20 percent work for state enterprises such as are found in China, North Korea and Myanmar, she said.
"Many of them make the goods and products that we buy," Ewart-James said.
Watch how slave labor affects food prices
Most garments and other domestic goods made by forced laborers, she said, are manufactured in six nations: China, India, Thailand, Malaysia, Jordan and Argentina.
Ewart-James said Anti-Slavery International, which is based in London, England, defines forced labor as "work or service that is exacted from any person under the menace of any penalty for which the worker does not offer himself or herself voluntarily."
Those conditions even exist in the United States, says the International Labour Organization.
"Slaves are all around us, hidden in plain sight: the dishwasher in the kitchen of the neighborhood restaurant, the kids on the corner selling cheap trinkets, the man sweeping the floor of the local department store," the U.N. agency says in a recent book, "The Slave Next Door: Human Trafficking and Slavery in America Today."
The case in Mexico does not fit the typical mold, Ewart-James said.
"It's unusual that people in forced labor are found like that in Mexico: with bars and chains," she said. "We associate that with historical slavery."
Some governments, such as in Brazil, are taking a tough stance against slave labor. A special government task force established there in 1995 says it freed 4,634 workers last year in 133 raids on large farms and businesses that rely on workers driven to take those jobs by hunger and the empty promises of labor recruiters.
Brazil's Special Mobile Inspection Group consists of labor inspectors, federal police and attorneys from the federal labor prosecution branch. The group often raids workplaces looking for abuses and laborers held against their will.
Thursday's raid in Mexico was led by the Mexico City attorney general's anti-kidnapping division.
Help the Hope Movement combat modern day slavery by helping us raise awareness and funds.